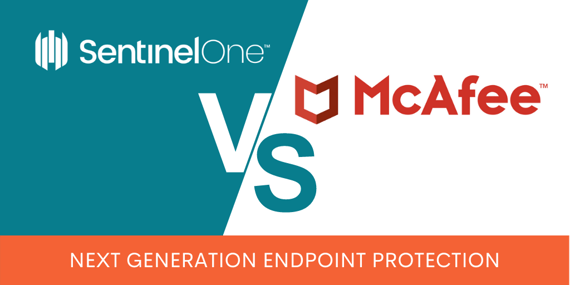 Got SentinelOne and McAfee on your shortlist for endpoint protection? We've put together this like-for-like comparison to help you decide which platform is best for your business.
McAfee may be an established name, but is it the best for EDR?

Established in 1987, McAfee is a long standing name in AV software. Down as a visionary on Gartner's Magic Quadrant and a Contender on the Forrester Wave EDR report, its endpoint protection tools, nevertheless, stand against stiff competition in today's autonomous cyber security space.

McAfee now includes threat defense and response as part of its MVISION suite of cloud and device security products. However, their EDR is still heavily reliant on signatures for detection on the endpoint, and cloud look ups when those fail.
There is only 7-day data storage by default, which can be extended to 90-day at extra cost. They appear to be heavily promoting MVISION as a complete CASB solution, rather than making it simple to buy EDR alone so flexibility of choice here does seem limited.
Essentially, McAfee is a legacy AV company at heart. It has come a long way, but how does it stand up against built-for-today ActiveEDR?
SentinelOne: resetting standards for endpoint protection
SentinelOne is rapidly becoming synonymous with unbeatable endpoint protection, as its record-breaking MITRE ATT&CK APT29 2020 test showed and its 100% Total Accuracy Rating by SE Labs.
It is quickly climbing the ranks in Gartner's Magic Quadrant and The Forrester Wave and making waves in further testing, as the table below shows. It is competitively and transparently priced, whilst Defender for Endpoint is more expensive and subject to Microsoft's complex licensing.
SentinelOne has published some seriously impressive video proof of its capabilities, not least where it defeats Maze ransomware in under two minutes. The platform also comes with a built-in ransomware warranty of up to $1 million - a warranty that has never been claimed.
If you're looking for a next generation endpoint protection solution and need help creating a shortlist, here's a direct comparison page to help.
Endpoint Protection: Key considerations
Is it easy to deploy and manage?

Is it dependent on cloud command and control for detection and response?

How effective has it been against zero-day attacks?

Do you have feature parity across Windows, Mac and Linux?

How does it perform in real world test scenarios?

What do other customers say about it?



Comparison of Business Benefits and Features
Business Benefits

Autonomous Protection and Response

Partial – dependent on signatures and cloud connectivity

Yes

Fast Recovery

Partial - varies across components / modules

Can be automated or 1-click

OS freedom (Windows / Mac / Linux feature parity)


Yes

Yes

Fewer alerts with more context

Varies across deployments / based on integrations

Yes

Threat hunting

Manual

Yes - full storyline


API integration

Graph & Rest - partial


Yes

Features

On-device AI



No - signatures

Yes

On-device behavioural AI

Limited to OS events

Yes


Exploit protection




Limited

Yes + context


Lateral movement

Through firewall rules

Yes + context


Remediation



Manual / Limited

Automated


Rollback

No

Automated


Integrated threat feeds

Partial - requires complex tie up between MVISION, and TIE (Threat Intel Exchange)

Yes


Remote shell



No

Yes


Device control



Yes

Yes


Firewall control

Yes

Yes


Bluetooth control

Yes

Yes

Threat hunting

Partial - requires MVISION, ePO and SIEM integration

Yes - full storyline


Deep visibility

No

Yes

Industry and Peer Reviews
Gartner Peer Insights
| | | |
| --- | --- | --- |
| | Threat Defense & Response | Endpoint Protection Platform |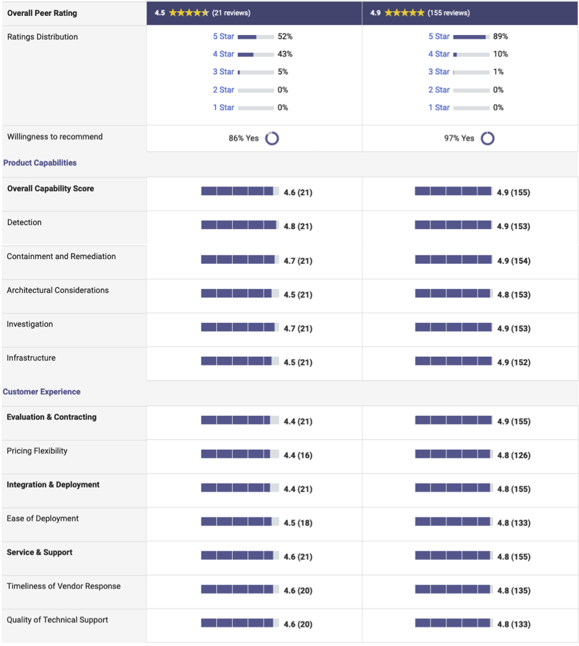 Gartner Magic Quadrant for Endpoint Protection Platforms August 2019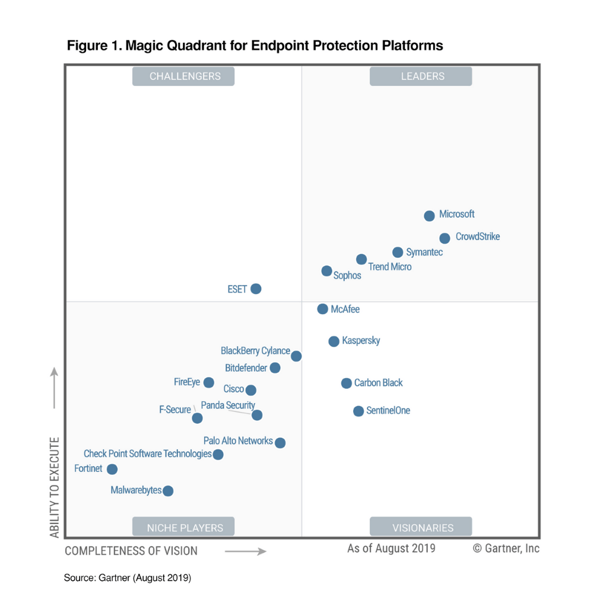 The Forrester WaveTM Enterprise Detection and Response Q1 2020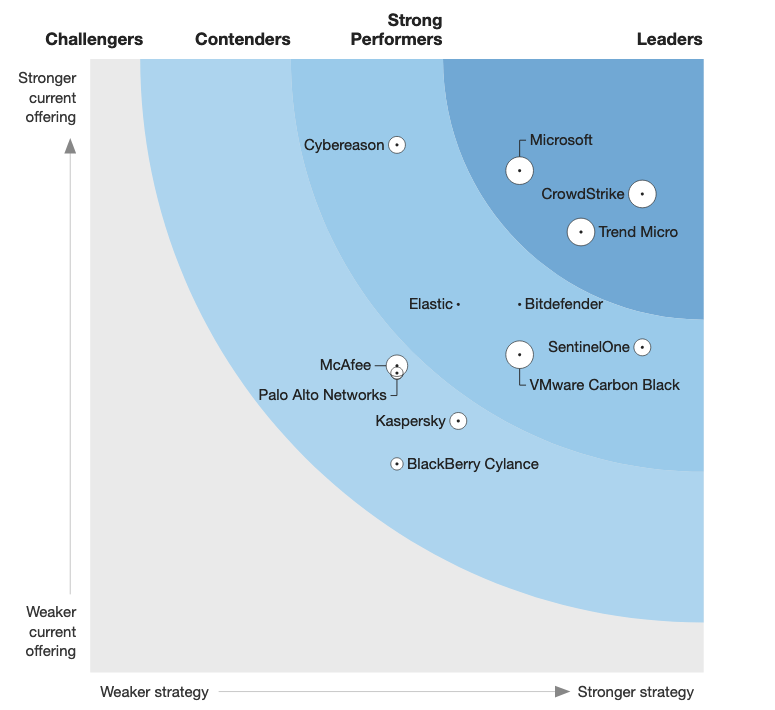 Independent Testing
TESTING BODY


Provided lower end coverage across the attack chain stages


APT29 2020

Scored record results:

- Least missed detections

- Most high-quality detections

- Most correlated detections

Recommended rating 2016

Top ROI score and Recommended rating 2019


Unknown

100% block rate across

Windows testing

Top Product

Approved Product (2017)


AAA rated: 97% accuracy


AAA rated: 100% accuracy

Pricing
All prices calculated at per endpoint per month, for comparison purposes.
Pricing is 'starting from' and based on list pricing. It can be subject to change, volume discounts etc.
Correct at October 2020
Contact us for accurate pricing based on your specific requirements
Minimum purchase - 5 endpoints - only through ITHQ

Payment can be billed monthly - only through ITHQ

To achieve these prices below, minimum purchase 100 endpoints, billed annually.

Quote always required for accurate pricing

Core

Control

Complete

$4.16

$4.90

$9.00

Includes full advanced EDR

All Core features plus device, firewall and bluetooth control

All Control features plus threat hunting and deep visibility


Listed on McAfee.com and Insight.com as MVISION EDR Premium & EPP
Priced according to Insight.com
5 - 250 Endpoints

$8.60 per endpoint per month (billed annually)